This event would never be possible without the generosity of our valued sponsors. They donate so many products, services, and often man power that make this event what it is. Every donation large & small is very important in making our event a success. Please be sure to patronize these businesses and thank them for their contributions to our great event.

Year after year, we couldn't have this event without the huge contributions by our two leading sponsors:
Skyline Stables
and
Texas Roadhouse

Thank you so much for everything you do!!
****************************************************
Also, A Huge Thank You to:
Tazmanian Freight Systems, Inc
for donating the Top Prize Saddle again this year!
2006, 2007, 2008, 2010, 2012 !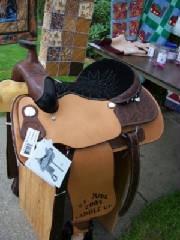 Advanced Auto

Agway

Anderson's Candy

Appaloosa Horse Club
Antique Emporium
Arbico Organics Fly Control
Atlantic Irrigation
Auto Zone

Barkus Chocolate
Baseball Card
Bauman Office Supply
Bed, Bath, and Beyond
Beaver County Fruit Market
Borics
Busy Beaver
Chik Fil A Past Trophy Sponsors

Christy's 2011 Tazmanian Freight Systems

Cris Home & Garden 2010 Tazmanian Freight Systems 2008 Tazmanian Freight Systems

Coastside Bio Resources 2007 Tazmanian Freight Systems 2006 Tazmanian Freight Systems
2005 Skyline Stables
Eat n Park - Chippewa 2004 Servicelink
Emmerick's Greenhouse

Fantastic Sams
Farm and Dairy

Fiebing Company Inc.

Fire Mountain

Forward Air Inc.

Franklin Beverage

Froggy 104.3

Fun Fore All - Cranberry

Garden Spot, The

G-Man

Grossman, Randy (being updated...continued below)

Hair Gallery
Hall Photography
Hanks Frozen Custard
Headquarters
Hollywood Tan
Horseman's Shopper
Ichiban Steakhouse
Iron City Brewing
Izzo's Embroidery & Scr. Print.
John Ewing Company
Just Dogs Gourmet
Kar-eyes Tent Rental
Linda B's Crafts
Luster's Saddlery
Lutz Leather
Mayflower Florist
Monte Cello's
Napa Auto - Cranberry
Oldies Radio the Pickle 92.1
Olive Garden
PaHorseMall
Penn Beverage
Pet Supplies Plus
Pflughs Country Market
Pizza Joes - New Brighton
Reigning Cats and Dogs
Rosiland Candy Castle
Salvatore Puccini Hair Design

Sarver Irrigation Inc.
Shapley's Ltd.
Shear Artistry
Shear Excellence
Smokey Bones
Super Cuts
T. L. Ferguson
Tractor Supply Company - Cranberry
Trade Secret
Truck Parts Specialist
Tucor, Inc.
Walmart
Williams Wesco Inc.
Wolfe Women's Clothing
Y108
Youngs Custard
Thank You Sponsors!!! Every one of you means the world to us!!
Attention sponsors: if we have inadvertantly missed you in this list; please let us know. We apologize for our omission & thank you for bringing it to our attention. We do our absolute best to make sure everyone is recognized & want to make sure you are as well.
More Past Sponsors
Advanced Auto Jerry's Curb Service
Agway Kar-eyes Tent Rental
Anderson's Candy Kretchmar's Bakery
Antique Emporium Log Cabin Restaurant
Arbico Organics Fly Control Lorraine's Salon
Barkus Chocolate Luster's Saddlery
Bauman Office Supply Lutz Leather
Beaver Concrete Marbulls Restaurant
Bed, Bath & Beyond Mayflower Florist
Big Dee's Tack & Vet Supply McDonald's
Big League Haircut Mia Testarossa Hair Salon
Boot Box Minamyer, Brenda
Brubaker & Sons Musquire Feed
Brusters Nails by Sally
Burger King Olive Garden
Burton, Linda & Rod One Smart Cookie
Busy Beaver PaHorseMall
C & M Archery Papa John's Pizza
California Tan Pet Supplies Plus
Carmike Cinema Pittsburgh Penquins
Celebrate Pizza Hut
Chik Fil A Pizza Joes
China House - Chippewa Reigning Cats and Dogs
Chippewa Animal Hospital Rent-A-Center - Chippewa
CiCi's Pizza Rick's Ranchwear
Climo's Pizza & Chicken Roadside Feed Supply
Collins, Ken Rosiland Candy Castle
Comcast Spotlight - FYI Safari Sams
Cooper's Custom Embroidery Salvatore Puccini Hair Design
Diamond Milling Sarver Irrigation Inc.
Dicks Sporting Goods Schoolhouse Restaurant, The
Ditto T-shirts Shear Artistry
Domino's Pizza Smith, Ann
Dynasty Interational Buffet Stallion Hill
Eat n Park State of the Art Hair
Emmerick's Greenhouse Subway
Engle's Florist Super Cuts
Evergreen Family Restaurant Super Styles
Everything Horses Suzy's Photo
Fairfield Inn T. L. Ferguson
Fairy Godmothers Catering Terry Lusters' Saddlery
Farm & Dairy The Hostess Gift Shop
Fatburgers Tinitique Café
Fire Mountain Top of the 9th Pizza
Four Aces Western - Portersville Towne & Country Lawn & Garden
Franklin Beer Tucor, Inc.
Fritsch Farm Supply Vocelli Pizza
Froggy 104.3 Wahl's Clippers
Fundraising Warehouse Walmart
G-Man Wendy's - Beaver Falls
Grossman, Randy Wickline, Betty
Hanks Frozen Custard WL Connected Pipeworks
Hill, Diane Wolfe Women's Clothing
Hilltop Laundry Y108
Hobby Depot Yorktowne Shoppe
Hogue, Mary & Jim Youngs Custard
Holiday Express Zippel, Tom & Julie
Horse and the Hound, The
Izzo's Embroidery & Screen Printing
J & T Custard
J R's Beer Warehouse
Jeffries Landing
Jennie's (Plant Loft)