Thank You Gifts from St. Jude

All riders are eligible to receive the following thank you gifts from St. Jude for collecting the following minimum pledge amounts: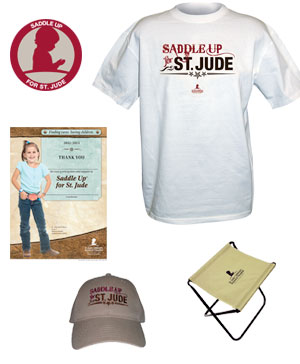 $20 - $34 Lapel Pin

$35 - $74 T-shirt & Lapel Pin
$75 - $149 Hat, T-shirt, & Lapel Pin
$150 & up Camp Stool, Hat, T-shirt, Pin

In addition, any rider collecting $50 or more is invited to the awesome barbecue as well as be eligible for the great door prizes drawn that day. Don't miss these two great parts to the day - get at least $50 in sponsors today.

Top Prize Saddle

Each year we are fortunate to find a great sponsor who is generous enough to donate our top prize - a brand new saddle! This special prize goes to the rider who collects the highest dollar amount for that year. Every year, it's a different amount, so we can't say how much you'll need; but suffice it to say it takes a lot of sponsors! Anyone can do it - go for it! Even if you don't reach that special amount, just think how much you'll help the kids. Give it a try!!

Please note: Winners must be present for all prizes (following the ride). Since this is a charity event; prizes can not be sent out or picked up at a later date. We do our best to award these as quickly as possible after the ride while still allowing everyone time to tend to their horses and wind down before the ride home.