Besides the photos throughout the other pages, we couldn't resist including a few more of the event. We have so many, this is literally just a few for now. We just wanted to include a few to give a little more of a feel for the event. Please note however, that although we have published our event on the world wide web, we still want to foster some privacy. Because of this, you'll see very few "head shots" other than the event organizers and committee members. We hope you understand. There is however, several group shots/distant shots that you just might find yourself in (we know you can recognize yourself & your horse even at a distance!) Remember, the main reason for the photos is just to give a few more views of the event. Hope you enjoy the photos!

Riders of every age & horses of every color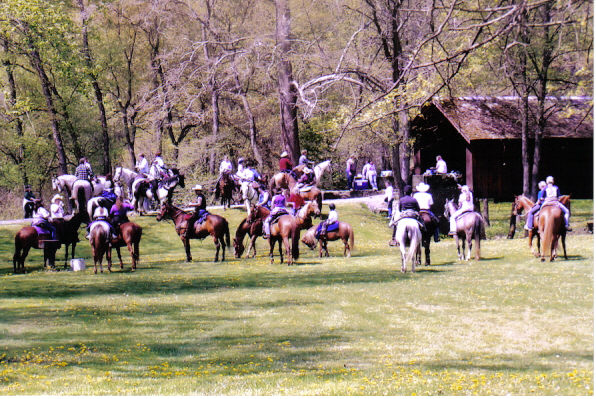 This is one of our favorite views - the halfway point of the ride in Brush Creek Park. The photos really doesn't do it justice, but it's quite a site as the 100 or more horses reach the beautiful covered bridge just as spring is starting to break. The top picture is the one from 2005 that appeared in the Valley Tribune with an article about the ride, sponsors, & some of the volunteers. .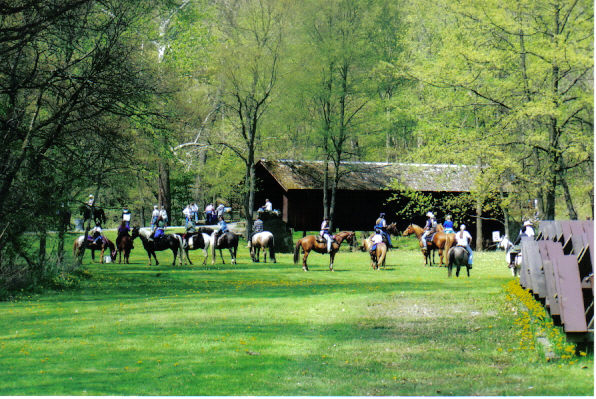 Celebrities and Friends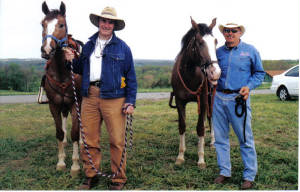 We have had many different celebrities & personalities ride and/or attend over the years. But former Steeler Randy Grossman has been there year after year and is truly a good friend to us & the Saddle Up. Not only has Randy been a rider for many years, but he has also provided us with many very special door prizes from the Steelers and other sports & celebrities from throughout Pittsburgh area over the years. We can't thank him enough. This is a very fitting photo of two good friends - Randy and George.

Riders of Every Age.......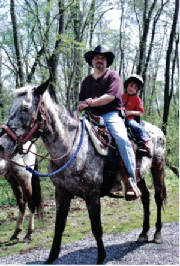 We take pride in having a ride that everyone can enjoy - individuals, groups, and families. Riders of all ages enjoy the ride ....some with a little help from mom or dad.
Horses of Every Color.....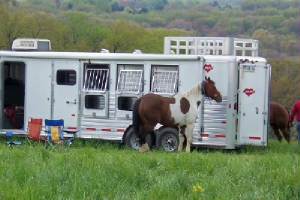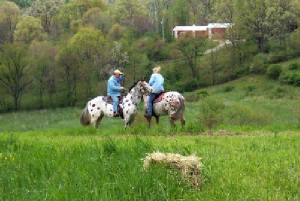 Paints, Appy's, and yes even Donkeys!
Another great thing about our ride is the extremely wide variety of equines that we get....paints and appaloosas, registered and grade, ponies and draft, even donkeys and mules. And of course, every color of the rainbow! It's a lot of fun checking out everyone's ride and spending the day around so many different breeds.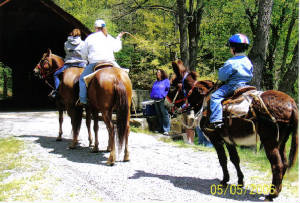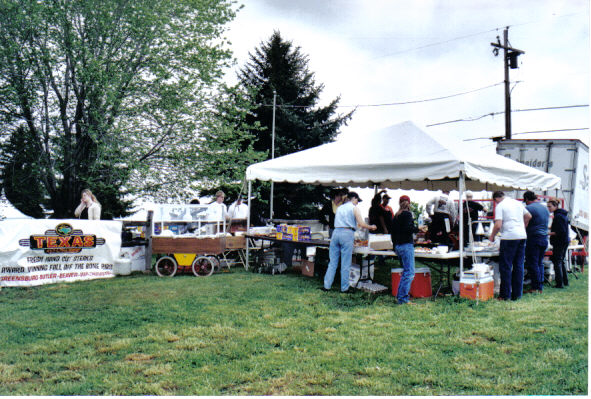 Trails End Barbeque

Not too many people realize how much work goes into acquiring, preparing, and serving all that great food for such a large event. But they do know that it's well worth the minimum collection amount needed to participate in this trail end treat. Texas Roadhouse has done an amazing job with all the work involved in bringing it to us and there's no doubt they get high marks from the riders! This photo shows a rare moment when their setup isn't buzzing with workers or riders. Again, even a picture doesn't do it justice; you have to get there in person....go get those sponsors!
Happy Trails to you....
Another year's ride's over - the tack set out to dry & be packed up. It's such a fitting view to the end of such a great day. At the end of the day, looking out over the hills of the ranch & surrounding area, we start to drift off somewhere between the great memories of past years and already getting excited for the next year. .......until we meet again.